← All Posts
One Woman's Path on Becoming a Sailor
May 31, 2022 • Written by Gaia Riva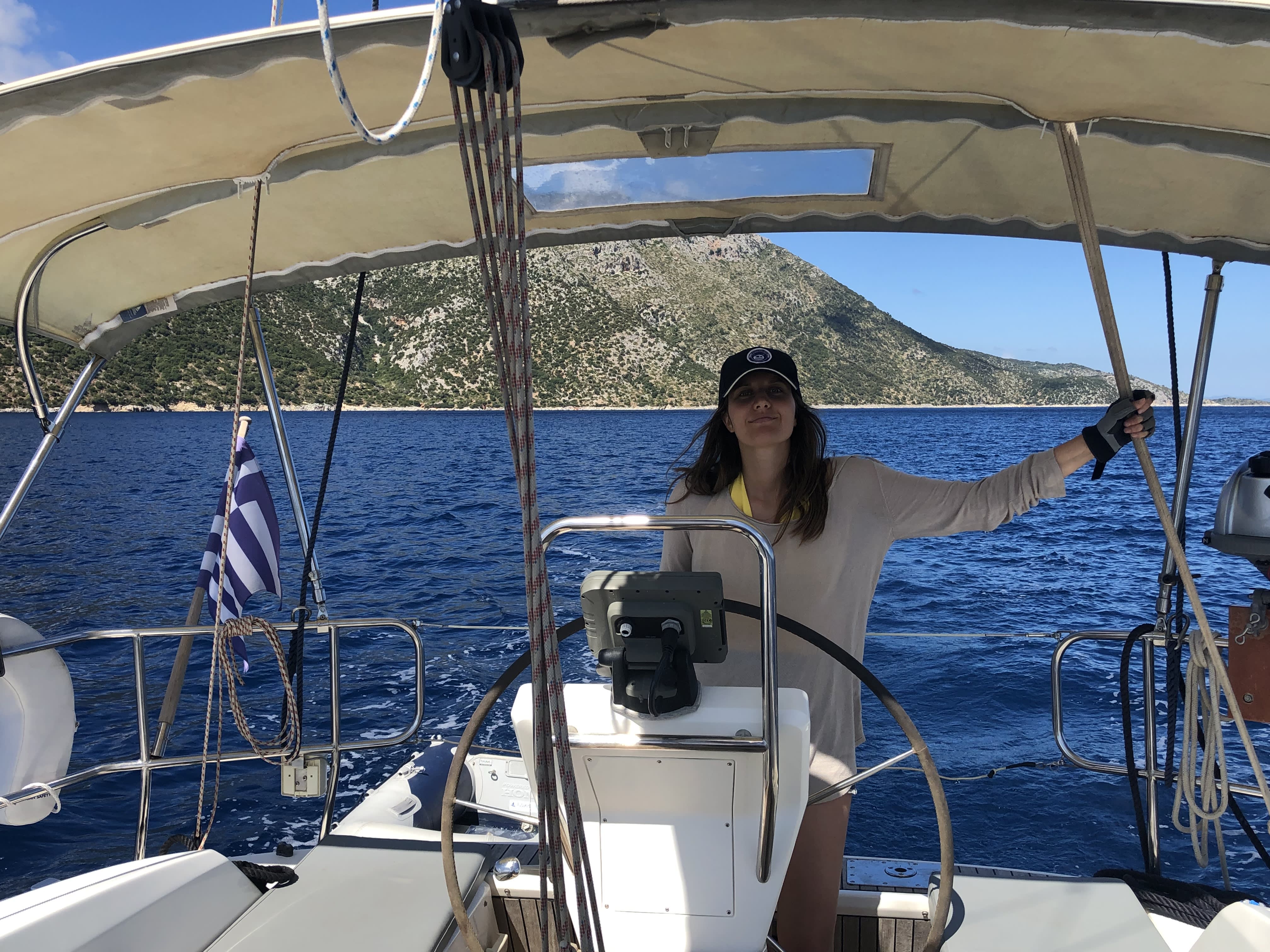 When my husband suggested that we try out sailing, my initial reaction was, "Are you insane? I've never stepped foot on a sailboat in my life."
That was quickly followed by, "That's a rich man's sport!"
You can't blame me for thinking that sailing was not for me. Beyond the fact that I didn't grow up sailing, nothing in the images I saw of sailing suggested this sport was welcoming to women.
It Starts with Representation
I simply did not see many female sailors in anything from the RYA sailing book to magazines and shows. If I did manage to see a woman on a boat, generally, she was not behind the helm. Instead, she was a guest in a bikini or a wife along for the ride. She was there to soak up the sun and gentle breeze.
I am not the only one who's noticed this; a strategic review by the world sailing trust reports that 80% of women believe there is a gender gap in the sport of sailing. Unfortunately, for me, there weren't any "role models." Less than 25% of entrants into major sailing events were women in the last five years.
In all my time before becoming a sailor, I never saw this: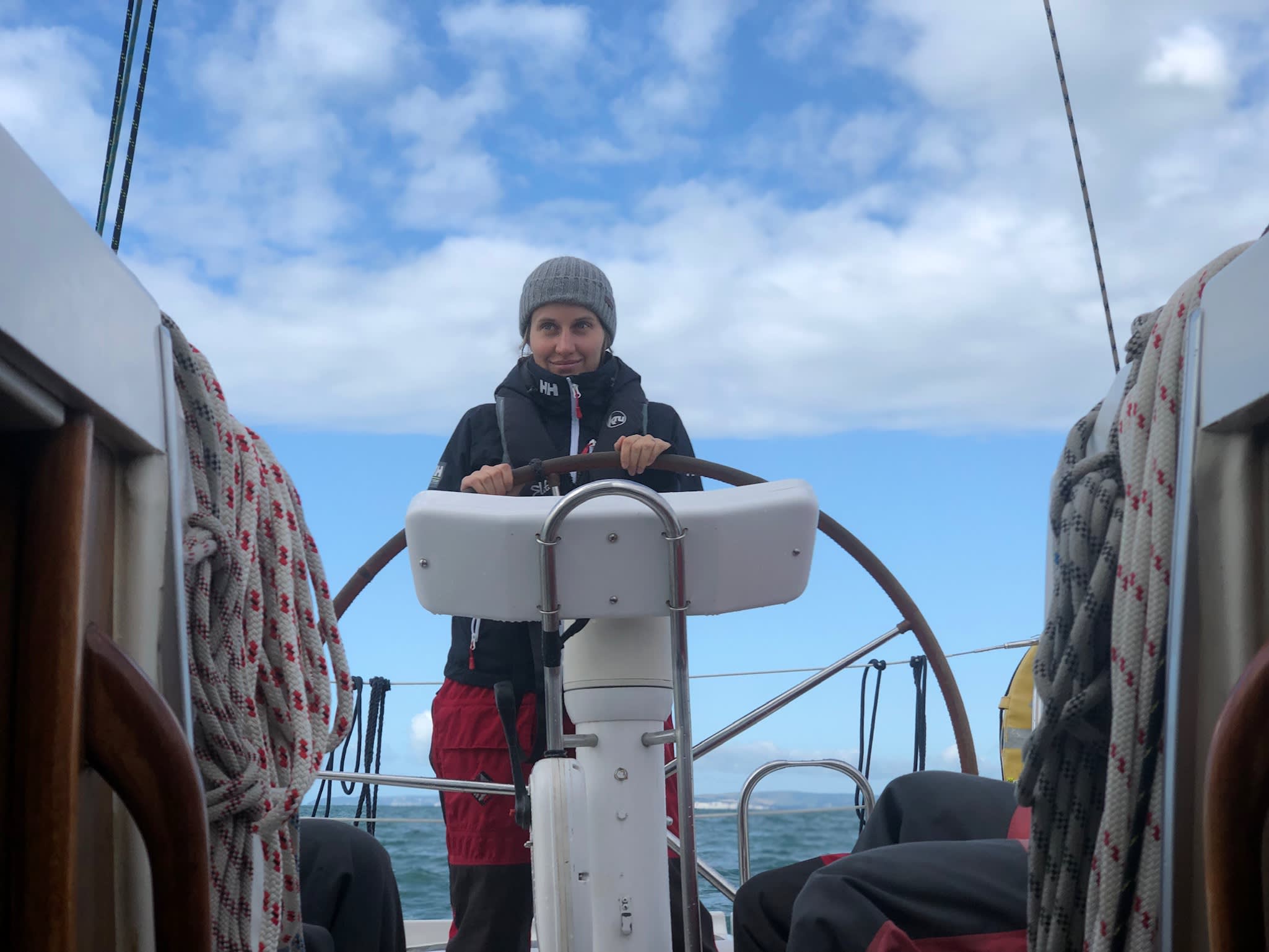 Getting more women into sailing starts with representation, and in my opinion, it was greatly lacking.
Training Builds Your Foundation
A few weeks after I had rejected the idea of sailing, I found myself on a ship with Nomad Sailing for our Competent Crew course. This kind of structured training is not a mandatory step to get your Day Skipper, but I highly recommend it.
An equivalent course in the US would be your "Basic Keelboat Certification." With International Yachting Training it is called "learning the ropes," which is a pretty accurate description. You will learn boat terms, winds, how to get the boat moving, and the most common and essential sailing skill, tying knots!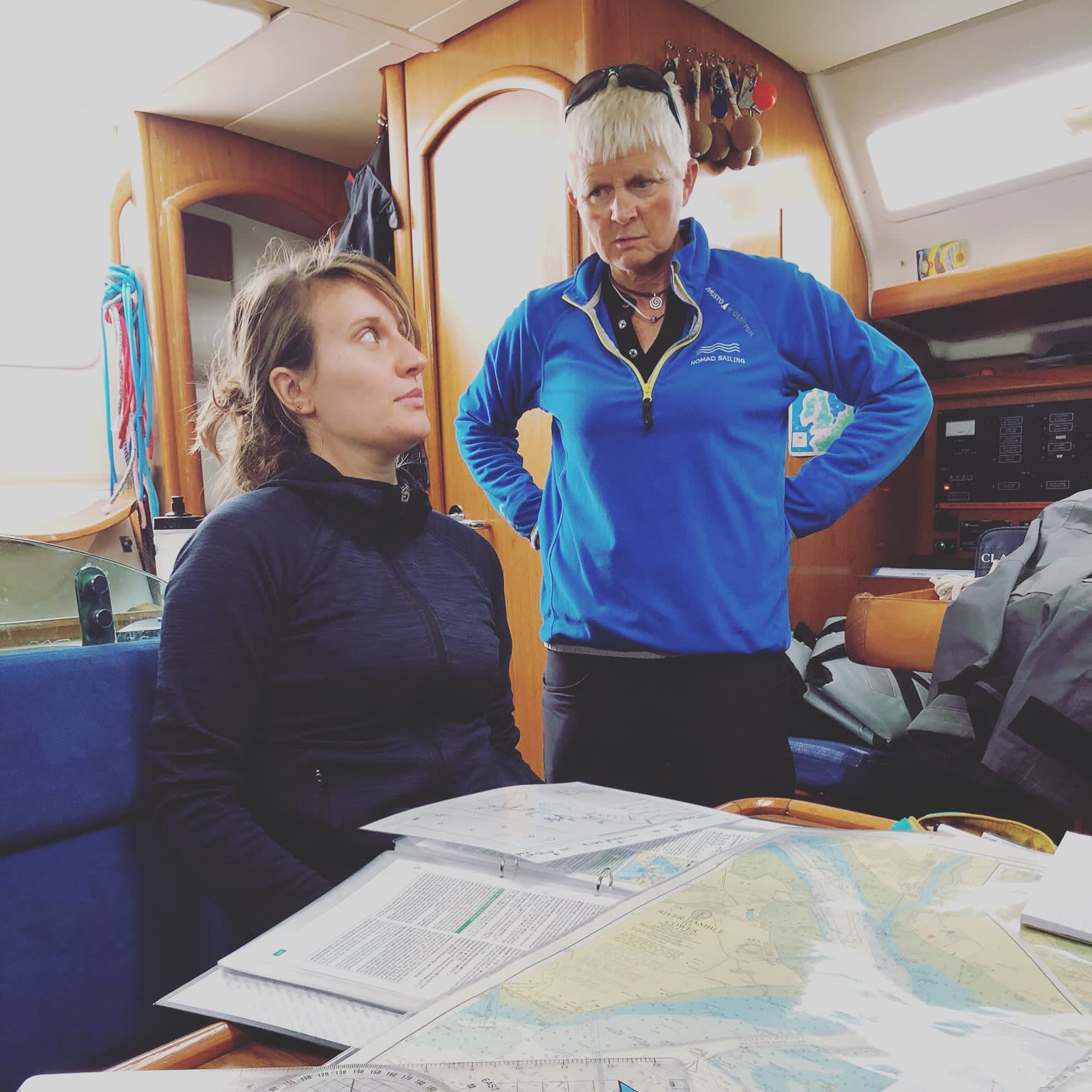 Our teacher was Lou Barden, a woman. I cannot begin to express how relieved I was to have her as a teacher. I am sure that many other male teachers are just as good as Lou, but seeing Lou doing it all was the validation and reassurance I needed to know that I belonged there too.
Since then, I went on to do my Day Skipper (always with Nomad and Lou) and many other sailing trips around the Solent, in the Mediterranean, and lastly, four weeks of bliss, with just my husband and I, across Greece and then Croatia.
When there are only two people on board, that's when you need to step it up. No one is there to tell you how you should do it, and your collective experience is all you can rely on. So you assess the situation, agree on what to do, and try to execute the best you can. This is when you start to get a feel for the boat, learn how she moves, the revs she likes, and how the wind moves through her sail. You get only it with time and experience.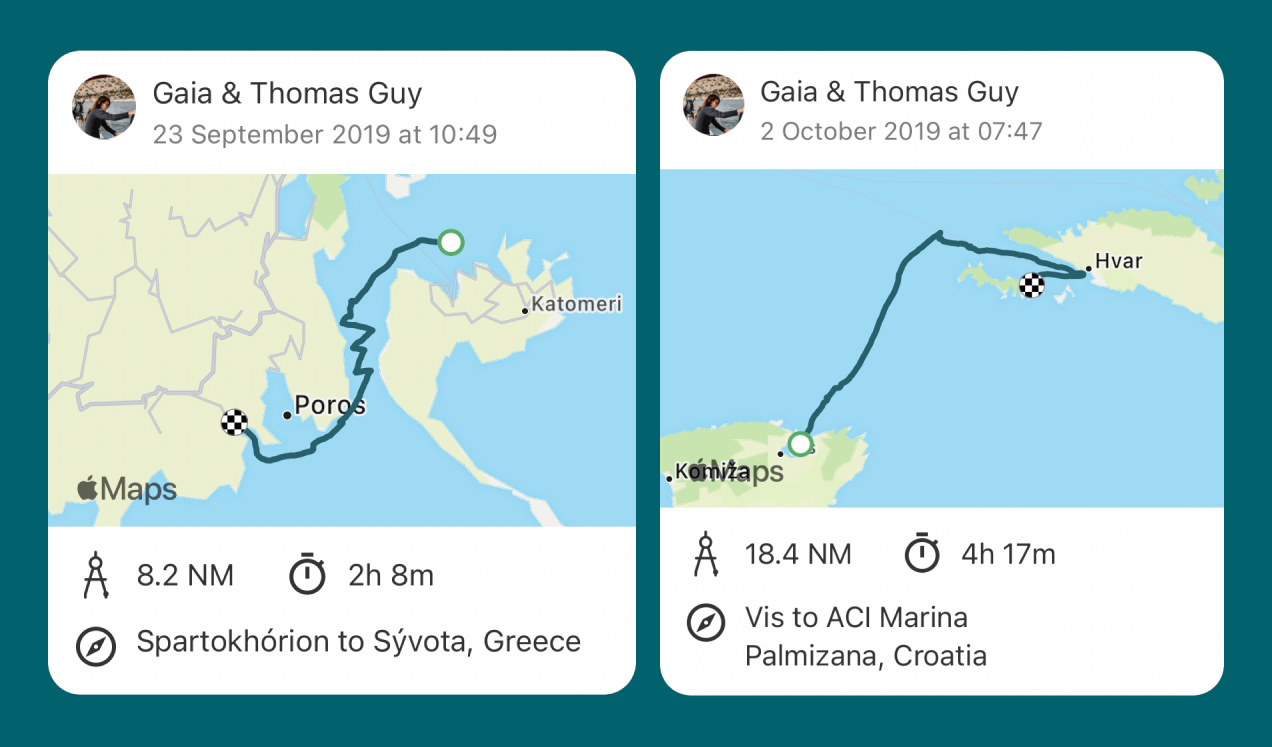 Track Your Progress (and Your Memories)
I started recording all of my sailing on SailTies. SailTies is a free, modern alternative to the paper logbook, which allows you to capture all of your sailing in one place. It made it easier to look back on my adventures and share them while crewing, chartering, and building my sailing qualifications. It's easy to lose track of how far you've come as you develop as a sailor.
Scrolling through my feed gives me a sense of achievement and nostalgia while, at the same time, getting me excited for my next adventure. You can see my profile here and download SailTies for yourself here.
I can proudly say I have long lining nailed down, that I am not shabby at the helm, and that I am more often land-sick than sea-sick. But, on the other hand, marinas still scare me, I can't do a rolling hitch to save my life, and I fear getting crossed anchors.
I guess what I am trying to say is that I may not be the best sailor out there, but I am doing it, and I love every minute of it. To all those girls, women, and people who identify as such, give sailing a go. It's the experience of a lifetime.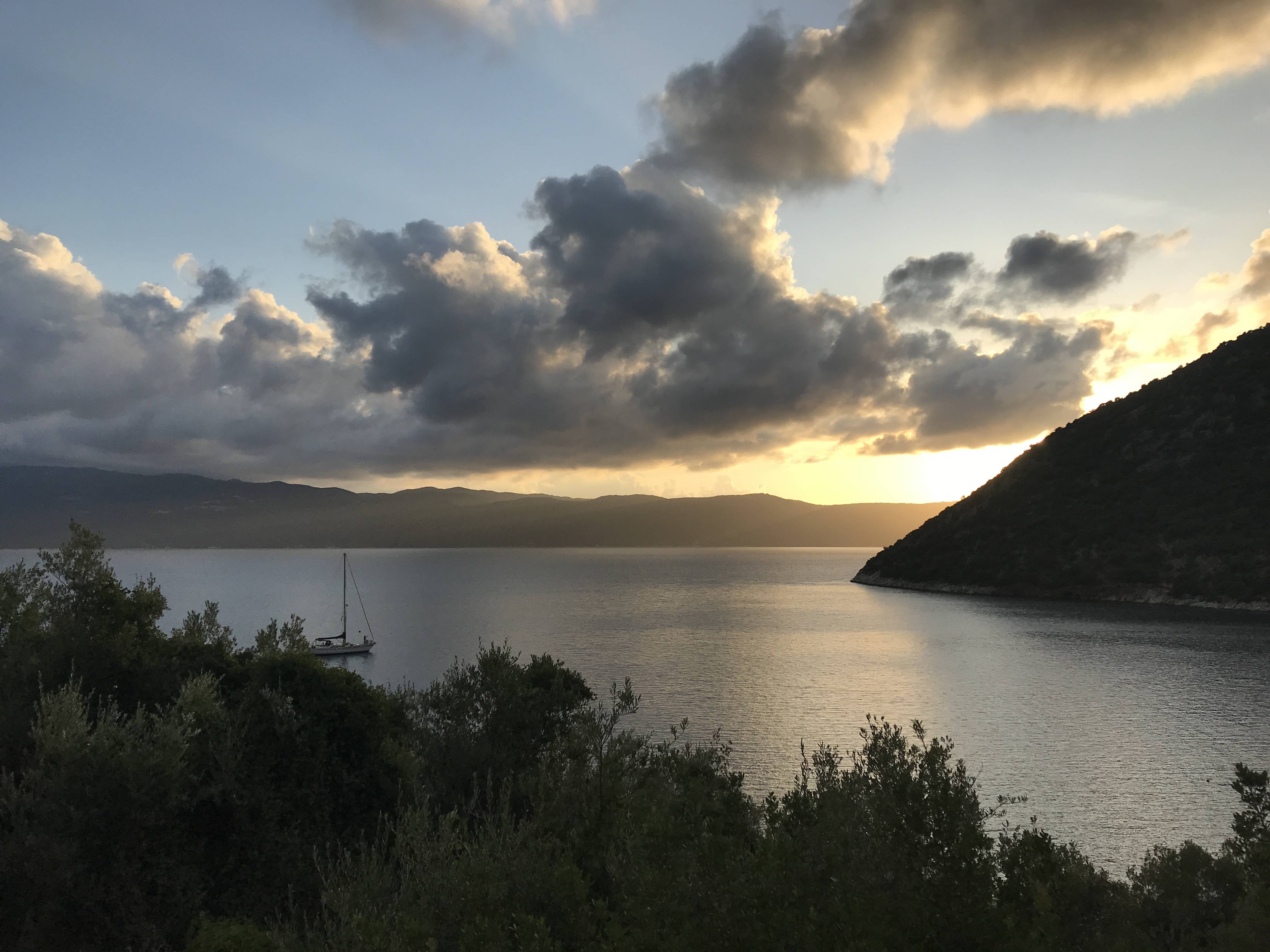 This blog post was originally shared on the Dockwa Blog on 30th May 2022.