← All Posts
December 2022 Update
Dec 21, 2022 • Written by Chris Jacobs


It's our final update for 2022, including two new 'off-the-water' features!
📜 NEW: Add Qualifications
🗺 NEW: GPX Import
🏆 2022 Highlights
⛵️ Voyages from the community
🔮 Future Plans
Watch our 2 minute video to catch up on all of this!
---
1. 📜 NEW: Add Qualifications
Create a full sailing CV by adding qualifications on your profile. Just take a photo of your qualification to keep a digital copy in the app!
How To: Add Qualifications to SailTies
---
2. 🗺 NEW: GPX Import
It's now even easier to log every mile to your SailTies profile, by importing GPX files recorded on hardware (e.g. chart plotters), wearables or other apps (such as Navionics).
How To: Import GPX to SailTies
---
3. 🏆 2022 Highlights
It's not often we pause to look backwards, but the end of the year is a great time for reflection on some proud moments. Thank you for making these possible:
📊 Completed our first investment round
👩‍💻 Built a small team in UK & Ukraine 🇬🇧 🇺🇦
🚀 iOS and Android apps launched
🌍 100,000 NM logged by sailors worldwide
📆 Non-stop voyages enter multiple weeks, including Fiji to New Zealand & ARC Atlantic Crossing
---
4. ⛵️ Voyages from the Community
November and December have seen activity in the Southern Hemisphere, Canaries and Caribbean really increase, which is very exciting for an app built by two British sailors! Thank you ❤️
A few of our recent favourites:
Las Palmas Round Trip - Crewed by Tom Veall and Jubilee Sailing Trust
Kyte Around the Island Race, Hong Kong - Crewed by Tazz
Whitsunday sail in 30kts - Crewed by Don McQueen and Katherine Elliott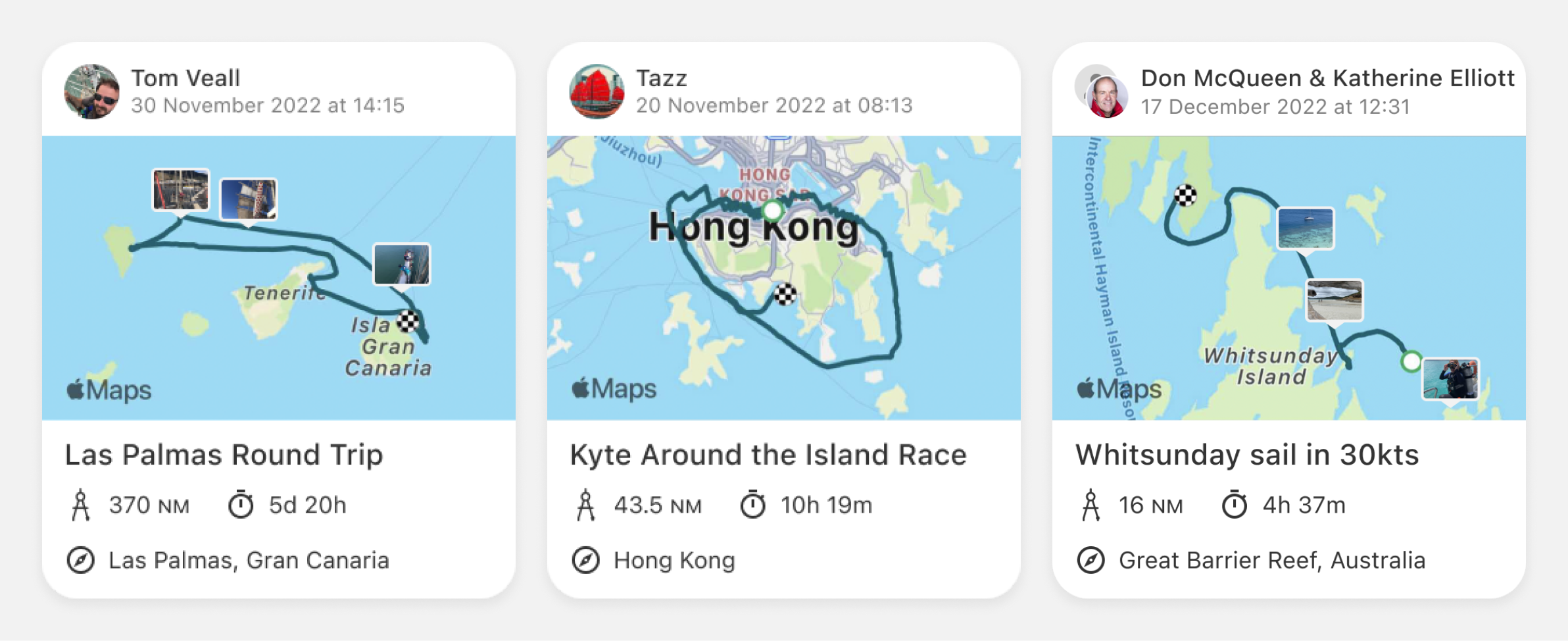 ---
5. 🔮 Future Plans
After speaking with as many of you as we can, here's what we decided to work on next:
📝 Manually add missed voyages
⛵️ Vessel info
🗺 Live tracking
Is there something missing that you would love to see? Email us to help make SailTies even better for you 🏆